The International Woman's Foundation located in Building 98 "Hacienda del Arcon" is a premier training center for artistic development and healthful aging in Marfa, Texas.
NEW WORK BY WALTER W. NELSON AND ALEXANDRA ELDRIDGE
Building 98
705 West Bonnie Street
Marfa, TX
October 5-8
MARFA, TX – Walter W. Nelson and Alexandra Eldridge will present a survey of recent paintings and sculpture at the historic Building 98 in Marfa, Texas, from Thursday, October 5 through Sunday, October 8, 2017. Gallery Hours are 10am-6pm. Please join us for the opening reception on Thursday, October 5th, 5-8pm.
Walter W. Nelson is a multi-disciplined artist working in photography, painting, sculpture and sculpture relief paintings. His past sculpture relief paintings have become more complex using an impressionistic pallet – color and texture with various materials to achieve an end never repeating himself after completing a series. Being exhibited are various works spanning a time period from 2014-2017. At present time, his works are moving into a broad color field abstract expression with symbolist forms combined with drawings. His life as an artist is a constant journey into the unknown, always looking ahead never behind, a positive and spiritual quest to understand and portray inner and outer existence.
Alexandra Eldridge's paintings emerge from a place where contradictions are allowed, paradox reigns and reason is abandoned. Her search is for the inherent radiance in all things – the extraordinary in the ordinary. Her paintings explore the "Eternal Worlds" of the imagination using the language of metaphor, symbol and dream to aid in accessing these worlds. Her stories are suggested here with no beginning and no end. Instead they hint at a relationship to a Visionary World and realms between. Her latest body of work has taken the form of largely photo-based paintings. The photographs are scanned from glass plate negatives dating from the turn of the century and printed on tyvek. Re-imagining the subjects of these vintage glass negatives (mostly children) by adding wings, moons, animal allies, stone circles, birds and amphibians, becomes a meditation on death and resurrection. There are also a number of overlay paintings on old Chinese scrolls, suggesting the fragility of life and it's transient nature. Additionally, there are three paintings, altered photographs in their original bubble glass and frames, and a nun's rough linen nightgown, re-animated with images and objects of magic and healing are included.
For further information please contact Alexandra Eldridge at ae8848@gmail.com or Walter W. Nelson at wnelson940@gmail.com.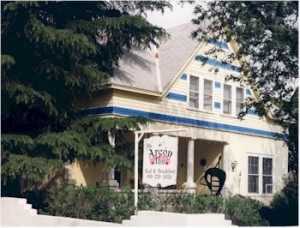 Mona Garcia also runs a lovely bed and breakfast the Arcon Inn.  If you are visiting Marfa and need a place to stay, please check it out.  Click here to go to the Arcon Inn website.
All of the guest rooms are quietly located on the second floor of the Inn. There is also the Arcon Casita, a restored adobe territorial located in the back patio of the Inn. It has two bedrooms, two private baths, a sitting room, kitchen, and a private patio.
The Arcon Inn also offers nature tourism on an 8000 acre ranch. This includes local guide, hiking trails, mountains and wild life. Call for the details 432-729-4826.