The International Woman's Foundation located in Building 98 "Hacienda del Arcon" is a premier training center for artistic development and healthful aging in Marfa, Texas.
Artist-in-Residence: Martin de Porres Wright
The International Woman's Foundation is pleased to host artist-in-residence Martin de Porres Wright.  Mr. Wright will be spending a three month residency from March through May 2017 at Building 98.
MARTIN WRIGHT was born in Dublin in 1951. He attended NCAD in Kildare Street in Dublin and later graduated from the Collage of Commerce Rathmines with a Diploma in Art Direction and Design.
He has spent all his creative working life in advertising and design. He is an award winning Art Director and Designer both nationally and internationally. He has spent the last four and a half decades developing and executing creative ideas across film, theatre, photography, design and exhibitions. He is a Lifetime member of the Institute of Creative Advertising and Design. A past president, 1992 and again in 2008. He represented Ireland on the Board of the Art Directors Club of Europe and is a member of Visual Artists Ireland.
Martin has traveled widely and worked in London, Beirut and lately Dubai. Since 2013 he has set out to establish his artists career. He works from his studio in County Cavan, Ireland.
He works in acrylic and oil on Icopal Bitumen Felt with bold use of colours inspired by the natural surroundings. He is an abstract painter.
His sculptors develop from found objects and collected materials from within the local landscapes.
To learn more about the artist you can visit his website at: www.martindeporreswright.com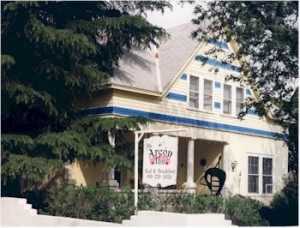 Mona Garcia also runs a lovely bed and breakfast the Arcon Inn.  If you are visiting Marfa and need a place to stay, please check it out.  Click here to go to the Arcon Inn website.
All of the guest rooms are quietly located on the second floor of the Inn. There is also the Arcon Casita, a restored adobe territorial located in the back patio of the Inn. It has two bedrooms, two private baths, a sitting room, kitchen, and a private patio.
The Arcon Inn also offers nature tourism on an 8000 acre ranch. This includes local guide, hiking trails, mountains and wild life. Call for the details 432-729-4826.